[caption id="" align="alignnone" width="600" caption="Image from TWD Magazine"]
[/caption]
The Cordial Churchman is, of course, a small company run not by men, but by ladies---Church belles, if you like.  Ellie employs two other good friends--Kay and Christie--who happen also to be preachers' wives.  (Soon, you'll meet Brandi--the most recent addition to the TCC production team.)  They're thrilled to be along for this strange ride, and they, like Ellie, take great personal pride in their careful craftswomanship.
[caption id="" align="alignleft" width="240" caption="Our Blue Chambray diamond point bow tie being very manly in the Levi's Meatpacking District concept store. Photo from Cotton and Rubber. "]
[/caption]
Recently, both Kay and Ellie had separate occasions to visit New York City.  While there, they had the exhilarating  experience of seeing our bow ties on display in the Levi's stores in Times Square and the Meatpacking District.
When you're running a company from somewhere as provincial as Rock Hill, South Carolina, seeing your wares in the Big Apple kind of makes you feel like you've got something pretty cool going on.
Speaking of which, for mannequins, these really have something cool going on, style-wise.  The juxtaposition of workwear, denim and plaid with bow ties is striking.  It goes to show you that bow ties are not exclusively for stuck up, self-important jerk heads---although they do faithfully serve that niche.
[caption id="attachment_1004" align="alignnone" width="500" caption="This photo was taken from outside the Levi's store in The Meatpacking district, NYC. That's our Blue Chambray diamond point."]
[/caption]
Ellie, of course, knew that these stores would have TCC bow ties on display.  In fact, all of the Levi's stores in North America, including the outlets, have our ties in the displays.  But still---something changed when she actually stood in Times Square and saw them staring out into the center of commercial mayhem from a window display.  Suddenly she wasn't a woman with a sewing machine.
[caption id="" align="aligncenter" width="448" caption="This lady found something she really likes. Her man, however, is transfixed by our Samuel wool diamond point bow tie. Photo from NATIVE(X)."]
[/caption]
It still blows our minds that in 21st-Century America, and in the midst of a recession, an accident like The Cordial Churchman could happen. It also blows our minds that a small name brand featuring products made in spare room sewing studios by preachers' wives in their spare time could end up in a place like the Levi's world headquarters concept store. And this sort of thing is happening to teeny companies featuring handmade products with fascinating stories all over the place. Bizarre. Awesome.
[caption id="" align="alignnone" width="630" caption="That there is the Samuel, a wool diamond point, casually draped around a macho mannequin in Malibu, CA.  Image from Malibu Mag. Click picture to see more."]
[/caption]
Levi's has begun opening concept stores in addition to their "Levi's only" stores. So far they're in New York's Meatpacking District, Malibu, CA, and attached to their headquarters in San Francisco.   These concept stores feature other handcrafted American-made brands like Pendleton, Filson, and, we're proud to say, The Cordial Churchman.  Usually when these stores open, they throw a big party.  Perhaps we'll be invited sometime?
[caption id="" align="alignnone" width="600" caption="When the Meatpacking store opened, they had a rock band perform. Image by Phillip Angert Photography via Popsop"]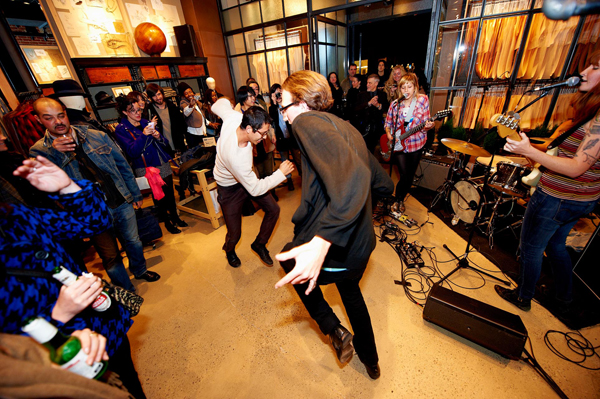 [/caption]
Thanks to Levi Strauss for being an incredible, All-American clothing company, and a great partner in business.
---
---
2 Comments
Leave a comment